Regular price
Sale price
$124.00
Unit price
per
Sale
Sold out
Just want to order a single Palbox? Whether you want to try it or give it as a gift to your friends and family - we've got you covered!
Share
View full details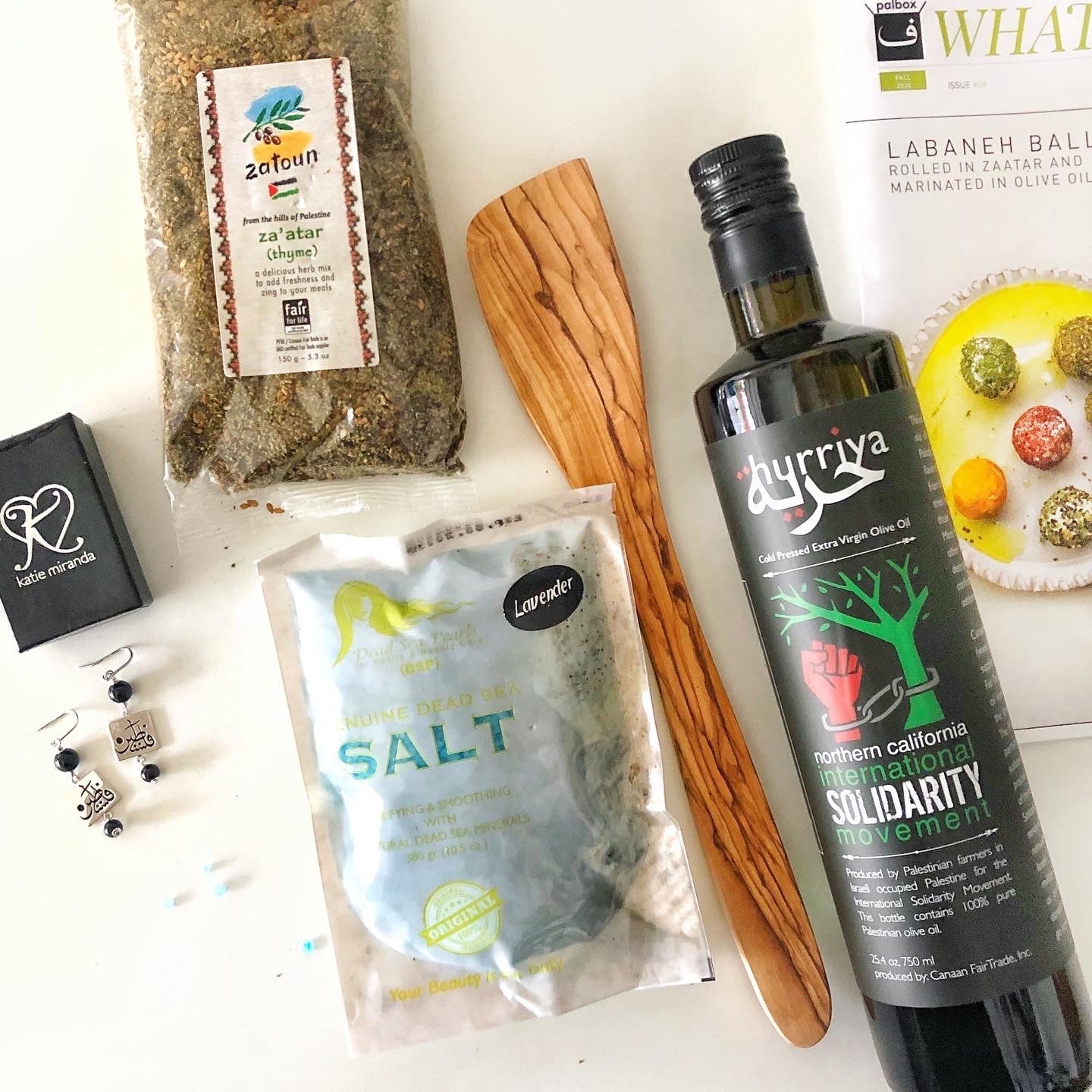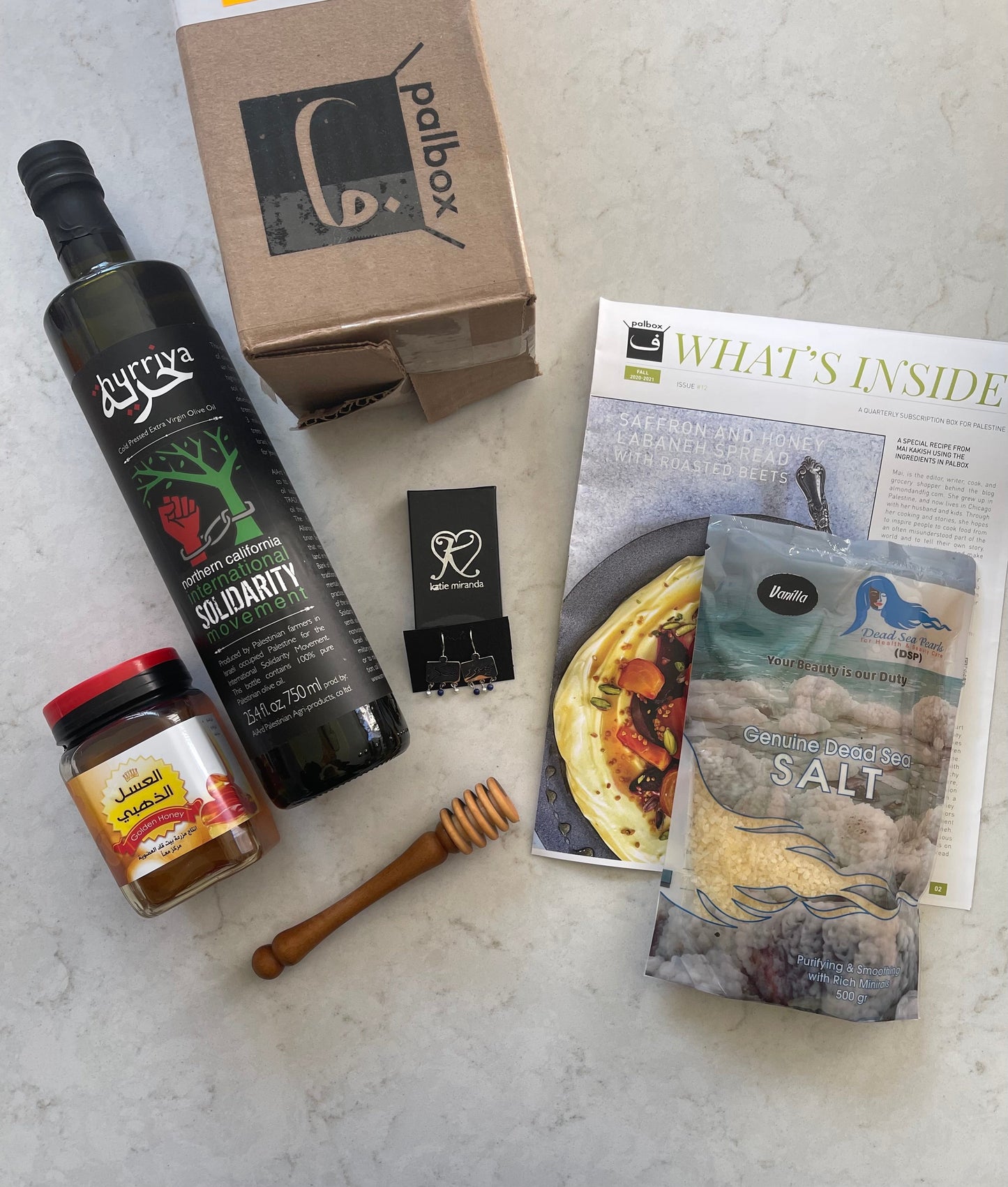 Experience the Taste of Palestine Right to your door
Highlights

Inside each box, you will find a themed collection that connects you with Palestine's culture and its people: food, solidarity and artistic items that makes you feel right at home!
Details & Shipping

Frequently Asked Questions:


Q: What is Palbox?

A: Palbox is a way to bring gifts and the best of Palestinian products to your door on a regular basis without having to shop all over the Internet and without having to worry about when to reorder. It's also a way to provide steady support to Palestinians.

Q: How does it work?

A: Palbox is a subscription service that automatically replenishes your supply of the best of Palestine. You will receive a Palbox every 3 months when you subscribe.

Q: What's in each box?

A: You will always get:

One Bottle of the finest Palestinian Fair Trade USDA Extra Virgin olive oil
Palestinian food consumable items. We rotate all of our items yearly. We have previously had items such as Arabic coffee, dark chocolate covered dates, olive oil soap, za'atar, coffee and maftoul
A Palestinian cultural item such as ceramics, embroidery, music or art postcards

Q: How does Palbox help Palestine?

The restrictions Israel puts on Palestinian artisans & farmers to get their products out into the world make it harder and harder for them to make a living from their beloved craft. Whether it be harvesting sumac or hand-painted ceramics, we commit ourselves to supporting these families by delivering these products directly to you. To date, we have put over $100,000 into the Palestinian economy.

Q: When will I receive my first box?

A: We ship boxes on the 1st weekday of each month to customers who subscribed before our cut-off date of the 23rd of the prior month. For example, if you subscribe between February 26th and March 23th, we will ship your Palbox April 1st. If you subscribe between March 26th and April 23rd, we will ship your Palbox on the first weekday of May.

Q: When is my credit card charged?

A: If you purchase the yearly plan you are billed once per year.

If you are on the quarterly plan you are billed quarterly and your credit card is charged  on the 11th of the month before the shipping date of your next box.   For example, if you sign up January 23rd, your card is charged January  23rd and your first Palbox is shipped February 1st.  Your card is charged for your second  Palbox April 11th and  your second Palbox is shipped May 1st, and so on.

Q: Where are my orders ship from?

We currently ship all our orders from our main office in Maryland. You should expect your shipment within 2-3 business day. 

Q: Do you ship internationally?

A: Currently we ship to the United States, Canada, Sweden, Ireland, Australia,  Belgium, Brazil, France, Italy, Portugal, South Africa, Germany, Mexico, Kuwait, and the United Kingdom.  Please be aware that any and all import taxes are the customer's responsibility.

Q: Where does the olive oil, come from?

A: We buy it from Al Ard, a Palestinian commercial enterprise that provides premium agricultural goods produced by networks of smallholder groups in Palestine.

Q: What if my box arrives damaged?

A: Send us an email at customercare@palbox.org and we will send you a replacement for the damaged product.

Q: Does my subscription auto-renew?

A: Yes, subscriptions auto-renew for the same subscription period that you signed up for, but it's easy to cancel if you decide to do so.

Q: How can I cancel or manage my account?

A: You can easily manage your subscription by logging into your account in the link that was emailed to you when you signed up. If you choose to cancel, your cancellation will take effect at the end of your current subscription cycle.

Q: Help! My bank or credit card company says my payment to Palbox might be a fraudulent charge! What's going on?

A: Depending on the security measures provided by your bank or credit card, you may receive a notification asking you to confirm that you made a recurring payment purchase. Simply notify your bank or bank or credit card provider that you approve the purchase.

Q: I have a question that I can't find the answer to, where can I go to for help?

A: We'll be happy to help you! Email us at customercare@palbox.org .

 

 

 
Sneak Peek Into Our boxes

Wafa Ghnaim Review of Palbox

 

Haitham Kudaish Review of Palbox